Exploring Sri Lanka's Historical Treasures and Cultural Gems
Sri Lanka, often referred to as the "Pearl of the Indian Ocean," boasts a rich tapestry of historical landmarks and cultural sites that offer a captivating glimpse into its past. I invite you to join me on a virtual tour of some of Sri Lanka's most intriguing historical and cultural attractions.
1. Sigiriya Rock Fortress:
Location: Located in the cultural heartland of Sri Lanka, Sigiriya is an ancient rock fortress that rises dramatically from the plains.
Why Visit: Ascend the steep staircase to reach the summit, where you'll find ancient frescoes, lush gardens, and breathtaking panoramic views.
2. Polonnaruwa:
Location: This UNESCO World Heritage Site is home to a well-preserved ancient city in the North Central Province.
Why Visit: Explore the ruins of royal palaces, temples, and stupas that date back to the medieval period, showcasing Sri Lanka's architectural and artistic prowess.
3. Anuradhapura:
Location: Anuradhapura, another UNESCO World Heritage Site, was the first ancient capital of Sri Lanka.
Why Visit: Discover sacred Buddhist sites, colossal dagobas (stupas), and the sacred Bodhi Tree, which is said to be the oldest historically authenticated tree in the world.
4. Dambulla Cave Temple:
Location: Nestled within a cave complex, this temple is a treasure trove of Buddhist art and sculptures.
Why Visit: Admire intricate murals and statues as you explore the five caves, each with its own unique character and religious significance.
5. Kandy:
Location: Kandy is a charming city in the central hills of Sri Lanka, renowned for its cultural heritage.
Why Visit: Attend the famous Kandy Esala Perahera, a vibrant procession celebrating Buddhism and Sri Lankan culture. Don't forget to visit the Temple of the Tooth Relic.
6. Galle Fort:
Location: The historic Galle Fort stands on the southwestern coast of Sri Lanka.
Why Visit: Walk through the cobbled streets of this colonial-era fortress, admiring Dutch and Portuguese architecture, quaint boutiques, and the iconic Galle Lighthouse.
7. Temple of the Sacred Tooth Relic, Kandy: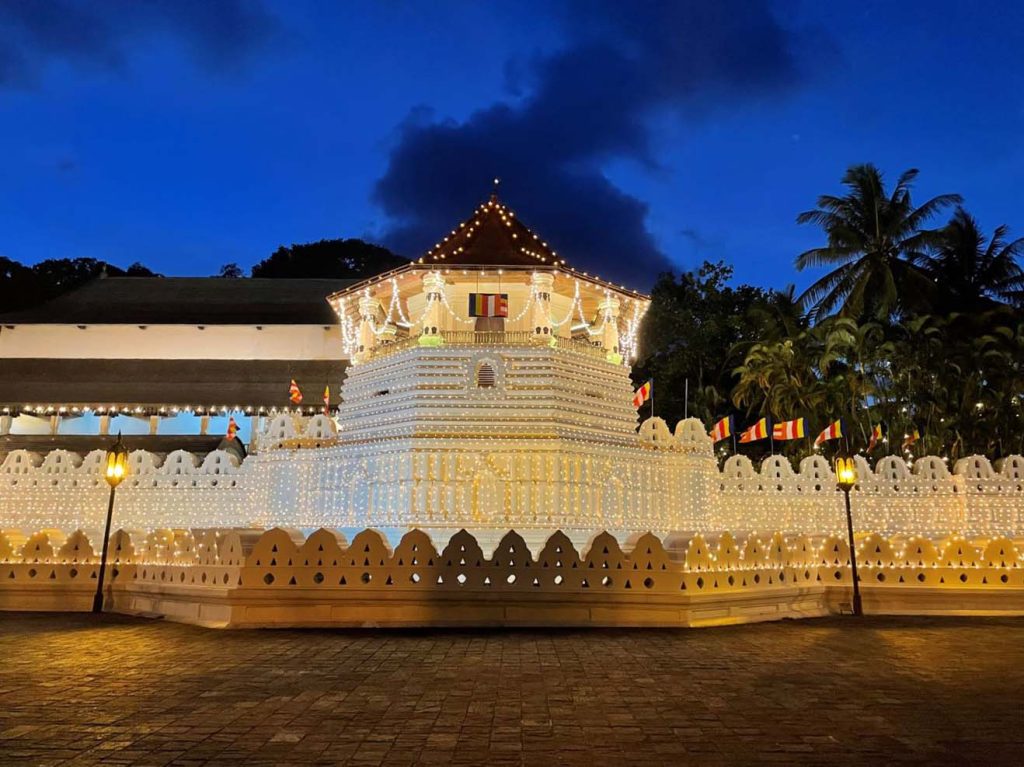 Location: Situated within the royal palace complex in Kandy.
Why Visit: Explore the temple, home to Sri Lanka's most revered religious relic, the tooth of Buddha. Witness daily rituals and immerse yourself in Buddhist spirituality.
8. Yala National Park:
Location: This iconic national park is home to diverse wildlife and ancient rock inscriptions.
Why Visit: Go on a safari to spot leopards, elephants, and other wildlife, and visit the Situlpawwa Rock Temple, adorned with ancient inscriptions.
9. Adam's Peak:
Location: Also known as Sri Pada, this sacred mountain is located in the central part of the island.
Why Visit: Embark on a spiritual pilgrimage to witness the sunrise from the summit and see the legendary "Sri Pada" or "Sacred Footprint."
10. Cultural Shows:
Location: Many cities in Sri Lanka host cultural performances showcasing traditional music, dance, and rituals.
Why Visit: Experience the vibrancy of Sri Lankan culture through these captivating shows that offer a glimpse into the nation's artistic heritage.
Sri Lanka's historical landmarks and cultural sites offer a profound journey through time and traditions. Whether you're an avid history buff, a culture enthusiast, or simply seeking to immerse yourself in the island's rich heritage, these attractions are bound to leave an indelible mark on your Sri Lankan adventure. So, pack your curiosity and embark on a cultural voyage through this enchanting nation.