Exploring the Outdoors in New York: Hiking, Biking, and Beyond
My recent journey took me to the bustling streets of New York City, an urban landscape not often associated with outdoor adventures. However, I was determined to uncover the city's hidden gems through biking, and my quest led me to explore three bike rental services, each offering its unique advantages and drawbacks. I will share my in-depth experiences with these bike rental services, including their locations, pricing, discounts, recommended biking routes, personal impressions, and my overall recommendations.
Citi Bike
Location: Citi Bike stations are strategically positioned throughout Manhattan, Brooklyn, and Queens, making them easily accessible.
Services: Citi Bike boasts a user-friendly bike-sharing system featuring a fleet of robust and well-maintained bicycles available 24/7.
Advantages:
Extensive network coverage ensures that bikes and docking stations are readily available.
Affordable pricing options include single rides, day passes, and annual memberships.
The Citi Bike app offers real-time availability updates and route maps.
Disadvantages:
Limited bike variety, primarily offering standard city bikes.
Finding available bikes during peak hours can be challenging.
Recommendation Score: I rate Citi Bike an impressive 8/10 for its affordability and convenience, particularly for short rides within the city.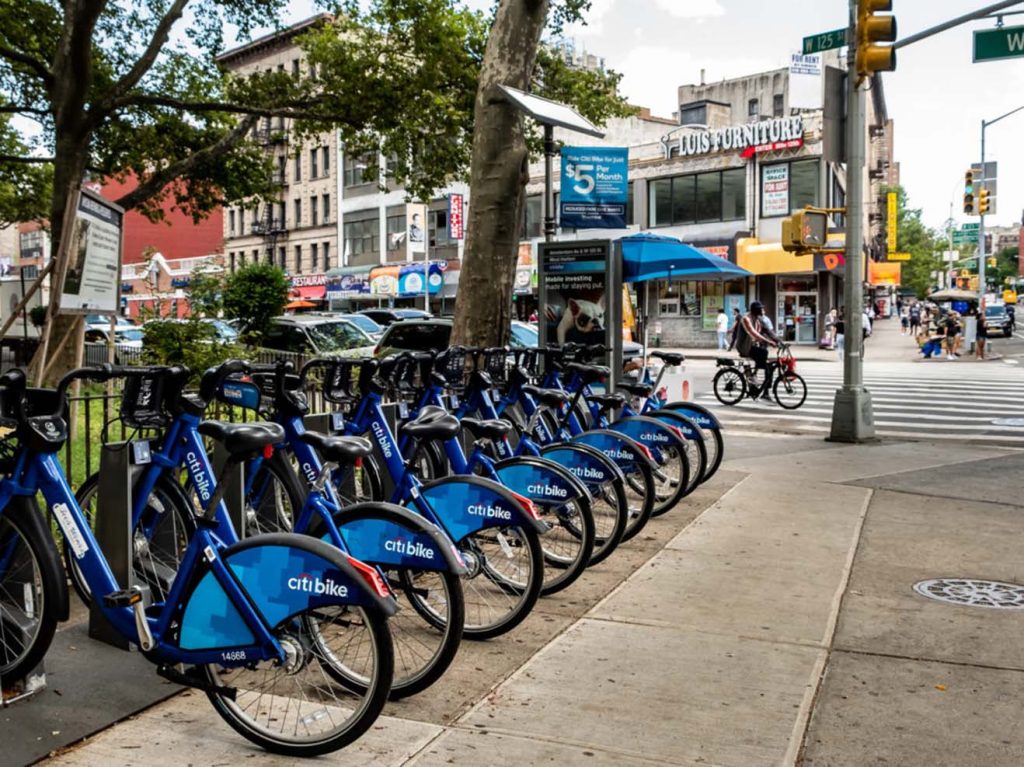 Unlimited Biking
Location: Unlimited Biking operates multiple rental locations in Manhattan, including Central Park and the Hudson River Greenway.
Services: This rental service stands out for its diverse range of bikes, encompassing hybrids, mountain bikes, and e-bikes suitable for riders of varying skill levels.
Advantages:
A wide selection of bikes caters to different preferences and rider abilities.
Convenient rental locations near renowned biking routes such as Central Park and the Hudson River Greenway.
Guided bike tours are available for those seeking a more structured experience.
Disadvantages:
Slightly higher rental prices compared to Citi Bike.
Limited network of rental locations in comparison to Citi Bike.
Recommendation Score: I would rate Unlimited Biking a commendable 9/10 for its bike diversity and suitability for riders of all backgrounds.
Blazing Saddles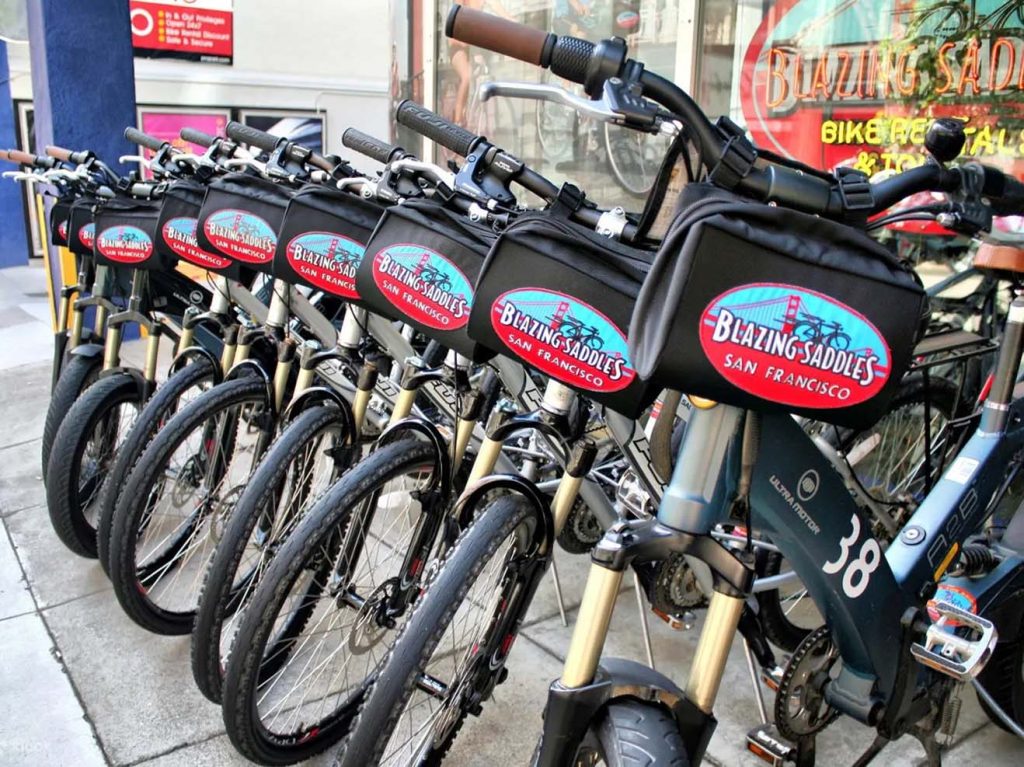 Location: Blazing Saddles has rental hubs in various parts of Manhattan, including proximity to Central Park and the Brooklyn Bridge.
Services: This rental service offers a mix of traditional and electric bikes, catering to both casual riders and those seeking longer journeys.
Advantages:
An excellent selection of e-bikes ensures effortless city exploration.
Multiple rental locations conveniently situated near iconic attractions.
The bikes are well-maintained, and the staff is friendly and helpful.
Disadvantages:
E-bike rentals come with a higher price tag compared to traditional bikes.
Limited presence in boroughs outside of Manhattan.
Recommendation Score: Blazing Saddles deserves a respectable 7/10 for its e-bike offerings and convenient locations near major landmarks.
Booking Platform:
In all three cases, I opted to make reservations directly through the respective rental service websites. While on-site booking is possible, I found that online booking offered the advantage of securing my bike in advance, which can be particularly beneficial during peak tourist seasons.
Exploring the city that never sleeps on two wheels was an exhilarating adventure, affording me the opportunity to uncover hidden urban treasures and iconic landmarks at my own pace. Each bike rental service had its unique advantages and catered to different types of riders, ensuring that outdoor enthusiasts of all stripes can find their perfect fit in New York City.
1.Central Park:
Hiking Trails: Central Park stands as one of New York City's most iconic green spaces, offering an extensive network of hiking trails. As you stroll along its gracefully curved pathways, you'll be treated to magnificent views, including lakes, tree-lined lanes, and iconic architecture.
Central Park Lakes: Central Park boasts several lakes, including the Jacqueline Kennedy Onassis Reservoir, The Pond, and Strawberry Fields Lake. You can take a leisurely stroll along the lakeshores, enjoying the tranquil waters and the surrounding woodlands.
Conservatory Garden: Located on the park's east side, the Conservatory Garden is a riot of colorful blooms that change with the seasons. In spring, vast swaths of tulips and peonies make for excellent photography subjects.
Landmarks and Sculptures: The park is dotted with famous landmarks and sculptures, such as Bethesda Terrace, the Alice in Wonderland Sculpture, and the John Lennon Memorial in Strawberry Fields. These places provide ample opportunities to capture the urban landscape and works of art.
Bird Watching: Central Park is a birdwatcher's paradise, hosting a variety of bird species. Bring binoculars or a long lens to capture exciting moments in the world of wild birds.
Outdoor Activities: The park features sports fields, basketball courts, tennis courts, and many lawns, providing space for activities such as picnicking, leisurely sunbathing, and group sports.
Biking Routes: Central Park provides dedicated biking lanes for cycling enthusiasts. Rent a bike and traverse the park, taking in the serene lakes, charming bridges, and lush gardens. The famous "Cherry Hill" is especially picturesque when the cherry blossoms bloom in spring.
Bike Rentals: Several bike rental companies operate within Central Park, offering a range of bicycles, including singles, tandems, and family bikes for exploration.
Biking Lanes: The park has dedicated bike lanes that encircle the entire park, providing a safe environment for cyclists. You can pedal your way through the park, taking in views of the lake, gardens, and tree-lined paths.
Landmark Tour: Plan a bike route that includes key landmarks like Museum Mile, Central Park Zoo, and the Delacorte Theater at the southern end of the park. This allows you to experience cultural and entertainment facilities while cycling.
Biking Photography: Bicycles offer a unique vantage point for photography, particularly when capturing dynamic scenes. Try to capture moments of cycling against the backdrop of the park's beautiful landscapes, or use a bike as a foreground element to enhance your photos.
Seasonal Biking: Biking is most pleasant in spring and summer, but autumn's foliage and winter's snowscapes offer a different biking experience for enthusiasts.
Architectural and Landmark Photography: The park is home to a multitude of iconic buildings and landmarks, including museums, ice rinks, and the park's signature cast-iron bridges. These structures and scenic spots offer a wealth of photography opportunities that blend urban and natural beauty.
2.Brooklyn Bridge Park:
Hiking Adventures: Situated between Brooklyn and Manhattan, Brooklyn Bridge Park offers spectacular views of the Manhattan skyline. Take a leisurely stroll along the waterfront promenade and soak in the beauty of the river and bridges.
Biking Opportunities: The park features designated bike paths, allowing cyclists to traverse the East River waterfront. Along the way, discover outdoor sculptures, open lawns, an outdoor theater, and sports facilities.
Photography Vistas: Brooklyn Bridge Park offers unique vantage points for capturing the Manhattan cityscape. Especially in the evening, when the city lights up, the scenery is exceptionally beautiful, providing fantastic photographic opportunities.
3.Hudson River Park:
Hiking Trails: Hudson River Park spans Manhattan's west side and offers several miles of picturesque, waterside walking paths. Wander along these routes to enjoy breathtaking views of the Hudson River, as well as sculptures and gardens within the park.
Hudson River Esplanade: The park boasts a stunning esplanade along Manhattan's west side, which offers captivating views of the Hudson River and New Jersey's skyline. Leisurely stroll along this tree-lined promenade and take in the beauty of the river.
Gardens in Bloom: Hudson River Park is adorned with beautifully landscaped gardens. Chelsea Waterside Park and Teardrop Park are just a couple of the exquisite garden spaces. These gardens provide a peaceful ambiance for a gentle walk and serve as delightful subjects for photography due to their unique designs.
Pier Exploration: The park features a series of piers that extend into the river. Each pier offers a distinct experience, featuring recreational facilities, green spaces, and striking sculptures. Venture out to explore these piers and capture the park's diversity.
Recreation and Sports Fields: Hudson River Park provides sports fields, basketball courts, and skate parks for outdoor enthusiasts. It's the perfect spot for sports aficionados and those seeking an active adventure.
Biking Lanes: The park provides dedicated bike lanes for cycling enthusiasts. You can bike your way through this riverside park while taking in views of the river, piers, and outdoor art installations.
Bike Rentals: Numerous bike rental shops are conveniently located near Hudson River Park. These shops offer various bicycle options, from traditional bikes to electric bikes and specialty cycles.
Biking Lanes: The park features dedicated bike lanes that stretch the park's length, ensuring a secure environment for cyclists. These lanes offer awe-inspiring vistas of the river, piers, and public art installations.
Waterfront Ride: Cycling alongside the waterfront is a truly delightful experience. The views of the river, bustling boat traffic, and the city skyline create an irresistible backdrop for photography.
Artistic Flair: Hudson River Park is home to a multitude of outdoor art installations. Capture the essence of these unique sculptures and public art pieces that harmoniously blend into the park's landscape.
Seasonal Cycling: Biking is a year-round pleasure. Whether you prefer the lush greenery of spring and summer, the vivid foliage of autumn, or the serene beauty of a winter ride with the park's pathways dusted in snow, each season offers its own special charm.
Rest Stops: The park is thoughtfully equipped with rest areas and benches. Take a moment to relax, relish the scenic views, and capture the beautiful moments during your bike excursion.
Recreation and Relaxation: Hudson River Park boasts sports fields, basketball courts, and skate parks, making it an ideal destination for various outdoor activities, from sports to leisurely strolls.
These three outdoor destinations, Central Park, Brooklyn Bridge Park, and Hudson River Park, offer abundant opportunities for outdoor exploration. Whether you're an avid hiker, a cycling enthusiast, or simply looking to enjoy the natural and urban beauty of New York City, these locations provide an array of experiences and photographic possibilities.