Capturing the Beauty of New York – Top Photography Spots
My recent escapade led me to the bustling streets of New York City, a visual delight for any photographer seeking to capture its unique beauty. I'll recount my experiences at three standout photography spots, sharing insights into their services, pros and cons, locations, discounts, ticket prices, recommendation scores, and personal impressions.
1.Central Park
Central Park covers 843 acres and showcases the beauty of the changing seasons. From the vibrant blooms of spring and the lush greenery of summer to the colorful foliage of autumn and the serene snowscapes of winter, you can capture the park's ever-changing beauty. Whether you aim to photograph grand landscapes or the intricate details of nature, Central Park won't disappoint.
Service: Central Park, an urban oasis, beckoned with diverse photography opportunities. The park's tranquility and its varied landscapes were a canvas for capturing New York's natural allure.
The park features numerous iconic structures and landmarks, including Bethesda Terrace, Central Park Lake, Sheep Meadow, and Belvedere Castle. These architectural marvels provide excellent backdrops for photography, whether you're capturing cityscapes or portrait shots.
Central Park is a diverse habitat for wildlife, hosting various bird species, squirrels, ducks, and seasonal migratory birds. You can capture charming moments of these creatures or document their lives in their natural environment.
The park offers a range of outdoor activities, including boating, biking, jogging, and picnicking. These activities provide photographers with opportunities to capture candid moments of people interacting with nature.
Central Park hosts a variety of seasonal events, such as concerts, outdoor movie screenings, ice skating, cherry blossom festivals, and the annual Christmas tree lighting ceremony. These events offer dynamic and ever-changing scenes for photography.
Locations like Bethesda Terrace and Sheep Meadow provide perfect vantage points to capture the interplay of the city skyline with the sunlight.
Central Park undergoes transformations throughout the year, offering distinct photographic themes and moods. From the blooming spring flowers to the golden autumn leaves, each season brings its unique charm.
Pros: The park's vastness provided an array of scenes, from serene lakes to vibrant gardens. It was an open, free-access location, with no photography restrictions.
Cons: Depending on the time of day, crowds could be a challenge, hindering solitude amid this picturesque setting.
Location: Central Park stretches from 59th Street to 110th Street in Manhattan, easily accessible for city explorers.
Discounts: As a public park, Central Park required no ticket purchases or discounts.
Recommendation Score: I'd give Central Park a perfect 10/10 for its versatility and natural beauty as a photography spot.
Central Park is a photographer's paradise in the heart of New York City. It offers diverse subjects and stunning natural beauty, making it a perfect canvas for photography. Whether you're a professional photographer or an amateur enthusiast, Central Park provides an opportunity to immerse yourself in the beauty of urban nature and capture unforgettable moments. Whether your interest lies in cityscapes, natural landscapes, or portraits, Central Park has something special to offer.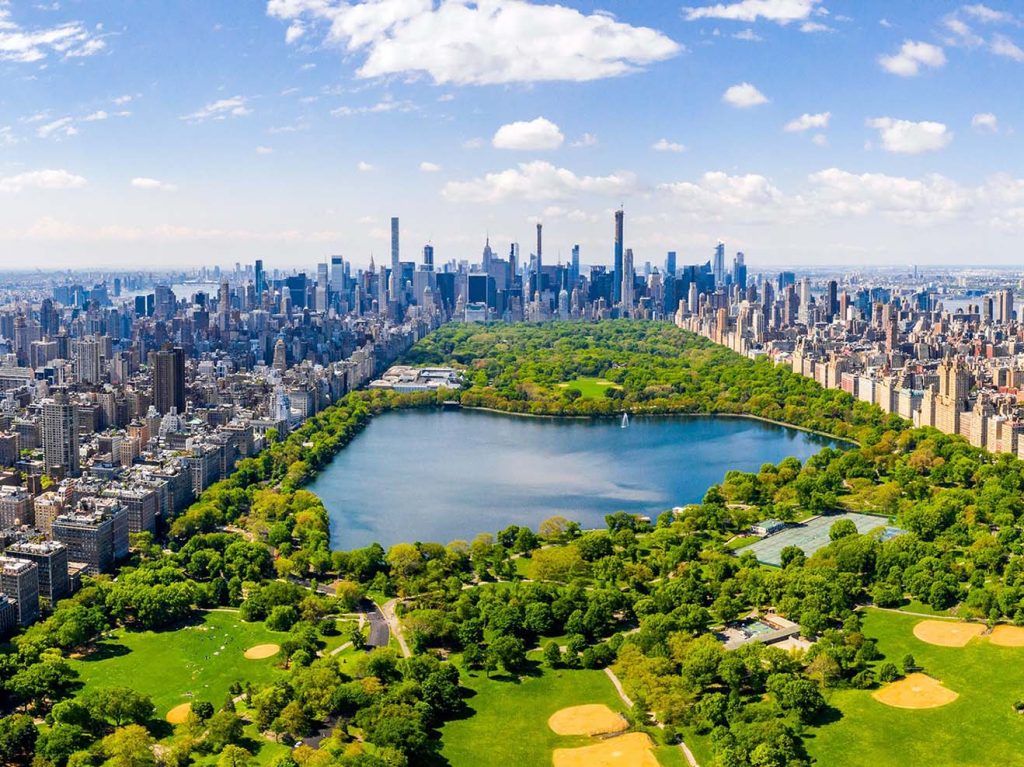 2.Brooklyn Bridge
The Brooklyn Bridge is an iconic suspension bridge completed in 1883, and it was the world's first of its kind. Its stone towers and steel cables are particularly spectacular during sunrise and sunset, providing excellent framing opportunities.
Service: The Brooklyn Bridge provided a captivating blend of urban and architectural photography. Its iconic structure and Manhattan skyline views were a magnet for photographers.
The best times to capture the Brooklyn Bridge are during sunrise and sunset. During these times, the bridge's silhouette stands out beautifully against the sunlight, with the New York City skyline as a stunning backdrop.
As you walk towards Brooklyn, you'll be treated to the marvelous scenery of the borough. Brooklyn's tall buildings, parks, and waterfront areas make for excellent photographic subjects.
The Brooklyn Bridge is equally impressive at night when the bridge is illuminated, casting shimmering reflections on the East River. This presents a great opportunity for capturing the city's nighttime splendor.
Pros: The bridge's unique design allowed for varied perspectives, and it shone both in daylight and under city lights.
Cons: Tourists and pedestrians often crowded the bridge, posing challenges for equipment setup without disruptions.
Location: Linking Manhattan and Brooklyn, the Brooklyn Bridge offered stunning vistas of both boroughs.
Discounts: There were no ticket costs or discounts associated with photographing the Brooklyn Bridge.
Recommendation Score: The Brooklyn Bridge earned a commendable 9/10 for its iconic appeal and skyline views.
Whether you're a professional photographer or an amateur enthusiast, this iconic bridge will immerse you in its grandeur and allow you to capture unforgettable moments. Whether you're shooting sunrise, sunset, nighttime cityscapes, or the bridge's unique architecture, the Brooklyn Bridge is a must-visit destination for photographers.
3.The High Line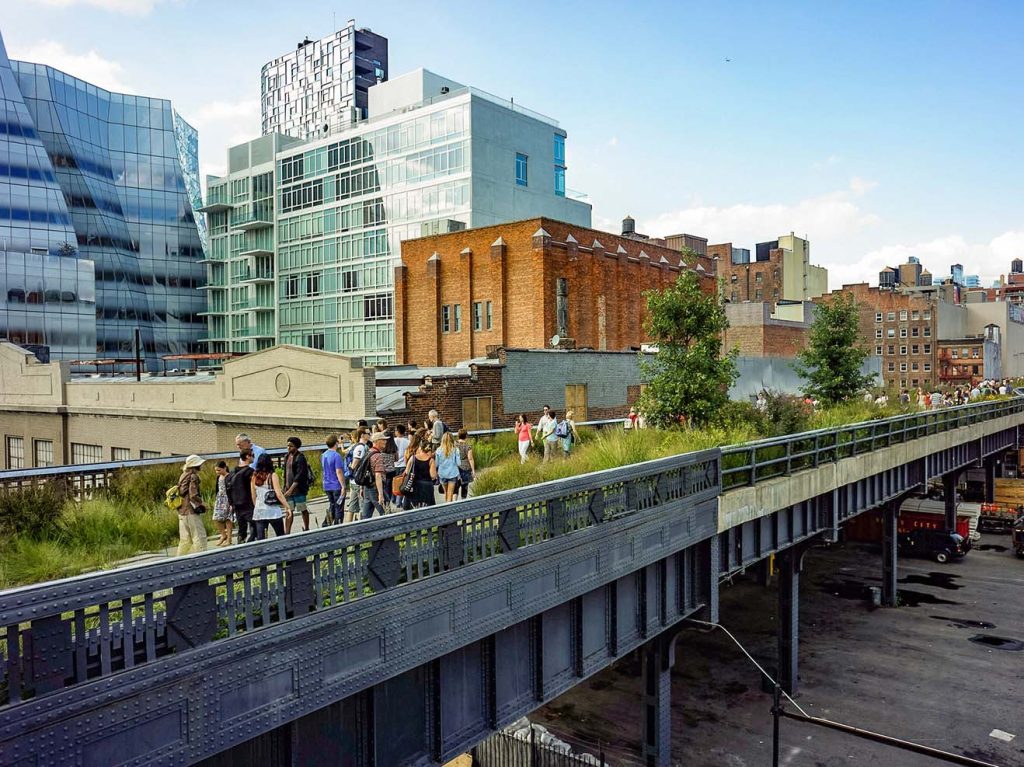 The High Line is a green oasis in the midst of the city, repurposed from an old elevated railway track. Its unique elevated location provides a fresh perspective on urban life.
Service: The High Line, an elevated park on a converted rail line, was a hidden treasure for urban photography. Its blend of nature and architecture created an artistic ambiance.
The park features meticulously landscaped gardens with a wide variety of native and exotic plants, creating a changing tableau of colors and textures throughout the seasons. This diversity of flora is a photographer's dream.
Walking along The High Line, you'll encounter a mix of contemporary and historic architecture. The contrast between nature and the man-made structures adds depth and interest to architectural photography.
The park often hosts a range of art installations, sculptures, and murals, both temporary and permanent. These art pieces provide a dynamic and ever-changing backdrop for photography.
The High Line offers stunning vistas of the Hudson River, the city's skyline, and the streets below. The interplay of nature and urbanity creates dramatic and captivating compositions, especially during sunset and the blue hour.
The park attracts a diverse crowd of people, from tourists to locals, making it a rich setting for candid street photography. The park's unique character often leads to serendipitous moments and engaging scenes.
Along your walk, you'll encounter remnants of the park's industrial past, including preserved railway tracks and vintage signage. These historical elements provide a touch of nostalgia for those interested in capturing the park's heritage.
The High Line transforms with the changing seasons, providing photographers with a wide range of opportunities. Spring blooms, summer verdant landscapes, autumnal colors, and winter's stark beauty all offer distinct subjects and moods.
The westward orientation of The High Line makes it an ideal location to capture stunning sunsets. The warm, golden light of the "golden hour" bathes the park in a magical glow.
The park frequently hosts events, performances, and festivals, adding a dynamic and lively atmosphere. This is perfect for capturing the energy and vibrancy of different occasions.
Pros: The park's design was a photographer's dream, offering greenery, sculptures, and cityscapes. It attracted fewer crowds than some other tourist hotspots.
Cons: The High Line's popularity had grown, resulting in occasional congestion during peak hours.
Location: The High Line extended from Gansevoort Street in the Meatpacking District to 34th Street, offering glimpses of Chelsea and the Hudson River.
Discounts: Like Central Park, The High Line was a public space, requiring no ticket purchases or discounts.
Recommendation Score: I'd rate The High Line an impressive 8/10 for its artistic charm and urban respite for photographers.
Its combination of natural beauty, architectural contrast, artistic flair, and dynamic city life offers a plethora of opportunities for photography. Whether you're interested in landscapes, cityscapes, street scenes, or the ever-changing seasons, The High Line is a must-visit destination for photographers of all levels.
In addition to Central Park, the Brooklyn Bridge, and The High Line, New York City offers a plethora of breathtaking photography spots. Here are three more top-tier photography locations, along with detailed recommendations:
1.Statue of Liberty and Ellis Island:
Iconic Symbolism: The Statue of Liberty stands as one of the world's most iconic symbols of freedom and democracy, warmly greeting visitors to New York Harbor.
Historical Significance: Ellis Island, situated nearby, served as the primary immigrant processing station during the late 19th and early 20th centuries. The combination of these two landmarks provides a powerful photographic opportunity to capture the essence of American history and the promise of new beginnings.
Ferry Adventures: The ferry ride to these islands not only offers fantastic viewpoints of Lady Liberty but also the chance to capture her in the soft, golden hues of sunrise or sunset.
Up-Close Details: Get intimate with the statue, capturing intricate features like her crown, torch, and tablet for unique and memorable shots.
2.Times Square:
The Neon Jungle: Times Square, often dubbed "The Crossroads of the World," is renowned for its dazzling billboards and neon lights, offering a constant whirlwind of activity and energy.
Street Photography Paradise: The area is a mecca for street photographers, boasting a diverse mix of people, street performers, and vibrant advertisements that create a perfect backdrop for candid photography.
Long Exposure Magic: Employ long-exposure techniques to capture the bustling crowds and the vibrant lights in an artistic and dynamic manner.
Various Times of Day: Times Square transforms dramatically throughout the day, each time offering a unique photographic opportunity, whether it's the vibrant daylight, the enchanting dusk, or the dazzling nighttime glow.
3.The Metropolitan Museum of Art:
Cultural Extravaganza: The Met is not just one of the world's most extensive and esteemed art museums but also an architectural gem, featuring a grand façade and iconic steps.
Art and Architectural Delights: Inside, the museum houses an extraordinary collection of art and antiquities from around the globe. Both the architectural details of the museum's interior and the art it showcases present splendid subjects for photography.
Alfresco Charm: The Met boasts beautiful outdoor spaces, such as the Cantor Roof Garden, often featuring intriguing art installations and providing panoramic city views.
Tranquil Moments: Amid the city's hustle and bustle, The Met offers a serene backdrop for photography. Capture moments of visitors immersed in art, quietly contemplating the exhibits, or enjoying the peaceful gardens.
These three additional photography spots – the Statue of Liberty and Ellis Island, Times Square, and The Metropolitan Museum of Art – encapsulate the diverse beauty of New York City. From historical and cultural landmarks to vibrant city life, they offer an array of subjects that allow photographers to encapsulate the essence of this dynamic metropolis.
My photographic odyssey through these top New York City spots was truly captivating. Each location presented a unique canvas to showcase the city's beauty, whether through the natural serenity of Central Park, the architectural marvel of the Brooklyn Bridge, or the artistic allure of The High Line. These spots, with their diverse characteristics, allowed me to capture the incredible tapestry of this magnificent metropolis.